Company Profile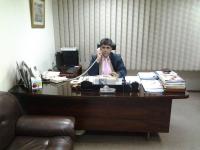 GREMCO SHIPPING COMPANY is an International Standard ISO 9001:2008 UNITED ARAB EMIRATES Company registered in the Emirate of Sharjah since june,1999 .
GREMCO SHIPPING COMPANY is excellently Managed by Mr. Sohail Anwar , a Shipping expert with Greek shipping back ground stretched on a period of 40 years .
The activities of the company are: Rolex Replica Watches
Ship Agents
Ship Managers
Freight Forwarders
Ship/Cargo brokers
Sale / Purchase of Demo vessels
GREMCO SHIPPING COMPANY handles all aspects of Agency Services, including contracts with: Shippers, Stevedoring, Tallying and Supervision, Clearing and Delivering Spare Parts, Crew Changing and Arrangements for: Bunkering, Provisioning, Vessel Repairs, Underwater Hull Cleaning and De-sloping Operations.
GREMCO SHIPPING COMPANY Ship's Supply Service is around the Clock Service. Given notice Via Radio or Direct to our office by: Telephone, Telex, Cables, VHF (Channel 16), our supply/crew boats can meet your Vessels Anywhere Offshore U.A.E COASTS.
GREMCO SHIPPING COMPANY Agency Net Work, serve the ports of DUBAI-JEBEL ALI-HAMRYA-SHARJAH-AJMAN-UMM AL QUWAIN-RAS AL KHAIMAH-FUJAIRAH-KHORFAKAN.
GREMCO SHIPPING COMPANY has an organization and methods which continuously review operation systems and procedures.
GREMCO SHIPPING COMPANY branches are headed by dedicated shipping executives most of whom are speaking Greek, English, Arabic, Persian, Russian, Indian and Pakistani languages and their extensive knowledge and experience in Shipping, secure for FIRST CLASS SERVICE AND EFFECIENCY.
GREMCO SHIPPING COM[PANY is able to combine SPEED ECONOMY, QUALITY in its work efforts any thereby provides MAXIMUM effects at a MINIMUM cost.
GREMCO SHIPPING as one of the leading shipping and freight forwarding company based in Sharjah and a network of offices in Dubai and other states of U.A.E.
GREMCO SHIPPING & FORWARDING is poised to offer an integrated shipping, transportation and Logistics solution to reliable customers.
GREMCO Sea Freight : Operation covers all sorts of sea freight movement i.e. full container load import and export .
Consolidation within GCC Countries and other destination world wide., projects handling mainly Oil & Gas.
GREMCO Air Freight: has established a sound working relationship with the world's major air lines, competitive rates and best possible service will be offered to our clients.
GREMCO Custom Clearance department has gained and established an excellent working relation with Custom Authorities in UAE. What ever your cargo needs.
Our expert personnel are always ready to take care of documentation and ensure smooth customs clearance and delivery of the cargo.
GREMCO is more than happy to handle your shipments and to consider our selves as business partners,
GREMCO SHIPPING COMPANY Proudly state that, Gremco has the honor to serve and represent the most reputable Greek shipping companies as well as other European and U.A.E. local shipping companies